How many times have you been out either shopping, on a playdate or at a local bar and have told your friends that your feet were killing you? I am raising my hand over here. It seems like I always seem to wear the wrong shoe, aka shoes that are super unkind to my poor feet.
I can honestly say that when my
Kushyfoot
products arrived I did a little happy squeal. Kushyfoot products are absolutely wonderful and are made with the happiness of your feet in mind. From massaging socks, soft & flexible ballet flats and tights, they are cute and exactly what my poor feet were in need of.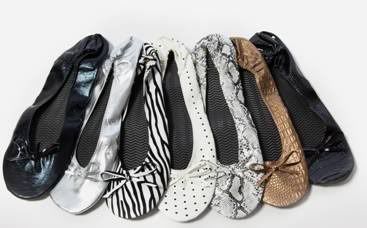 Flats-To-Go
are genius. They fold up and you can literally stick them anywhere. You can go out wearing your favorite heels, but you can actually pull out your
folded up ballet flats
to wear once your feet begin to hurt you. The ballet flats that I received were surprisingly comfortable and I really wish these had been around back in the day when I would head out on the weekends (or even during the week) with my girlfriends. They fold up so small that you can place them in your tiny handbag and they wouldn't take up an insane amount of room.
Flats-To-Go come in a variety of cute colors from basic black to embossed alligator. The suggested retail price is $9.99 which makes owning a pair (or two) an affordable must have for your purse.
The bottom line is this: I recommend owning a pair of Flats-To-Go if you are constantly killing your poor feet with your footwear. They are cute and look like a pair of every day ballet flats with the exception of folding up and being able to be tucked away in your purse. They are extremely comfortable and beat having sore, swollen feet any day.
All opinions expressed above are my own. I was sent a pair of Flats-To-Go and a pair of massaging socks in order to facilitate an honest review. No other compensation was given.