If there is one thing that I love to read it is a book with humor, mystery and a lovable lead female character. These types of books allow me to continue to wonder about the book even when I am not reading it. Do you ever find yourself as you are trying to fall asleep you continue to try and solve the mystery of your current read? That is usually a great sign of the book I am reading--it means it has ultimately drawn me in.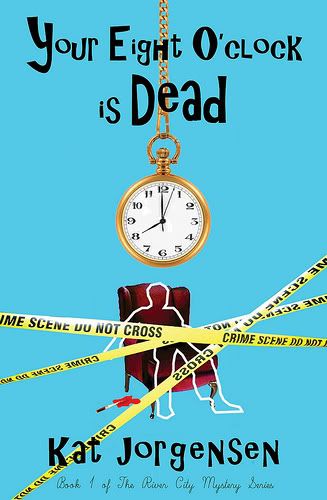 I recently read
Your Eight O'Clock is Dead
by Kat Jorgensen. This novel is about Becca Reynolds, a young office manager (as she has given herself the title) at a psychiatric partner office. She arrives to the office one morning and begins her day as usual. She notices one of the patients in a chair ready for his 8:00 appointment. As Becca begins her morning routine she carries on a conversation with the patient until she realizes that something is wrong, very wrong, with him.
This is when Becca discovers and has to tell Dr. D that his eight o'clock patient?
Is dead.
I loved everything about this book. Becca is a lovable and I found myself able to relate to her and her nosy antics. She has managed to meet a handsome Russian and finds herself drawn to the manly accountant in the office across the hall. Can Becca solve the mystery and save her bosses' practice from going under due to an unsolved murder occurring in their office?
I rate this book five stars. I absolutely loved it and found myself unable to put it down. It sucked me in and had a great plot as well as a great mystery. It was fun to read and I recommend it to my readers!
Interested in purchasing
Your Eight O'Clock is Dead
? You can buy it on
Amazon.com
,
Barnes and Noble
or
Smashwords
.
About the Author
Kat Jorgensen
, a notorious daydreamer, knew that it was only a matter of time before she became a writer. She learned to read by age four and had her first library card before her fifth birthday. To this day, she can lose herself for hours among the books at her local library or neighborhood bookstore. Ebooks and online ordering have made it really easy for her to keep her To Be Read pile from ever going down. A native of Richmond, Virginia, Kat is married with children and has a cranky tuxedo cat named Ben.
I received an ebook of Your Eight O'Clock is Dead. A huge thank you to Chick Lit Plus and Kat Jorgensen for this fun book tour! All opinions above are my own and no other compensation was received.