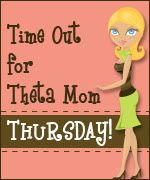 I don't know if I told you all this or not...
It was kind of a big deal to me.
I had a date.
And not with Leo.
*gasp*
*shock*
I left my house full of eagerness.
I practically had goosebumps!
I pulled into the parking lot.
Searching to see if my date would recognize me.
As I walked into the doors I felt my date give me what felt almost like a hug.
An "I missed you, Chelle" hug.
And wow, did I miss them, too.
The smell.
The touches.
The way they make me feel inside...like a kid at Christmas.
I can imagine that you are wondering who could possibly make me feel this good?
Who would be so great that I would voluntarily leave my house on a Thursday nite?
Allow me to introduce you...
This:
Was my big date.
I can guarantee you that there will be a lot of repeats like tonite...

Chelle + Target = True Luv 4Ever



Did you do something for YOU this week? Join in the fun at Time Out for Theta Mom Thursday!
You can thank me later for pointing you in her direction *smile*