Brynlie is getting to the age where she is really soaking in her surroundings and not wanting to be held 24/7. Although I miss snuggling with her so much, I honestly love watching her and her new found independence. From finding her hands, talking to me daily and finding an interest in everything around her--I love it all.
One of her favorite toys is the
Baby Play Place Deluxe Edition
. Holy cow. This toy? Has it all. From a motion activated musical ladybug, to a mirror and a variety of different settings it truly is one of the top baby gyms that I have used!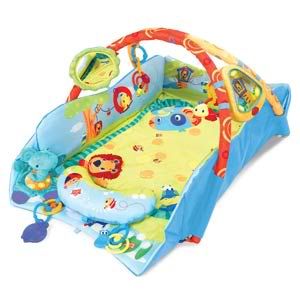 Right now we have the sides both placed in the up position. It's a great way for Brynlie to lie there and tilt her head to look at the clouds, trees and bright animals. I can place her on the mat and she will do a lot of quiet alertness (or "QA" as my sister calls it) while focusing on the different focal points.
I love how there are the two cross bars that overlap on top. We've placed the musical ladybug in the middle, and have hung the rattles, teethers and elephant buddy on the sides. I have watched Brynlie kicking like crazy and hitting the little rattles over and over again. I think she is starting to realize that, hey, she's the one making the noise and she loves it! It also comes with the following attachments:
2-in-1 electronic musical toy
a tummy pillow for some tummy time
the four walls can be configured into your baby's stage (newborn, infant, crawling and sitting)
water filled bee for teething
I highly recommend this play gym for it has so many different positions and ways to have the walls up, down or half and half. It truly will last her a long time. The fact that it has a musical motion activated ladybug is a huge plus!
My final opinion? Love it. It's a top of the line baby gym that has so many great toys, teethers, and possibilities. If you're in the market for a new baby gym or have a baby gift to get a friend I recommend the Baby Play Place Deluxe Edition hands down.
I received the Bright Starts Baby Play Place Deluxe Edition in order to write this review. No other products or compensation was given and all opinions above are my own. Thank you, Bright Starts!