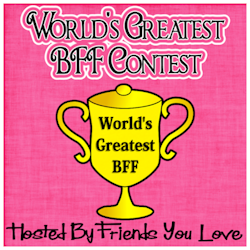 When I am asked about my best friend, the one who would always be there for me no matter what, I actually have to stop for a moment and think.
Being a military family and military veteran I have so many friends that come to mind. Unfortunately none of them live anywhere near me, but that is one main reason that I love social networking. I have reconnected with so many friends--friends who I would have otherwise lost contact with over the years.
Today there are a few people who I consider BFF's. I have so many people in my life, that if I honestly wrote about them all it would take so long--and y'all would be bored.
To tears. So with that said, here's my list of my top three.
Disclaimer--I would add Leo, but I talk about him enough. So just know that I do consider the husband a BFF, but I want to talk about women--amazing and strong women--who have made a tremendous impact on my life. The following women have all had a piece in making me who I am today as a wife, a mother, a friend, a sister.
I think of Angi a lot. I often wish I could call her, hear her voice, laugh with her and just have an honest heart to heart. But sadly Angi is no longer with me. With her family. With us on Earth. She passed away after a brave battle with breast cancer took her away from us all in 2005. The day that I received that news was a day that I'll never forget. It's an earth shattering realization to have to accept that I am no longer able to talk to her. But I have to thank her for everything that she did do for me while we were friends. I'll love her forever--and she'll always have a piece of my heart.
I talk to them practically every single day. They have been so amazing letting me talk away my sadness, my fears, my happiness, my joys and they listen. They're also both hysterical so we're always laughing about something--I heart my family SO much and wish every day that we lived closer. One day...one day I know we'll all live a hell of a lot closer than we do now! My sister and I laugh about when we were growing up how we fought like cats and dogs, yet today I would do anything for her! I love these two and could not imagine life without them in it.
Below are the details on the World's Greatest BFF contest! Good luck to all of my awesome readers--and I cannot wait to read all of your posts. I promise to read each and every one of them, so get to linking and keep me busy.
To enter simply write a post about your BFF. What makes her the World's Greatest BFF?
Grab the button code on the top of this post and place it in your post.
Come back here and link up on the linky below.
Entries will be accepted from 9/2 through 9/19.
On 9/24 our favorite Top 5 posts will be posted and all of our readers will be asked to vote for their favorite BFF!
Voting ends on 9/29 at 5 pm CST.
The lucky winner will be announced on 9/30 during the
Friends You Love
Twitter Party!
The winner will receive an amazing gift package--for both her AND for her BFF!
Awesome!!
If you have any questions, please feel free to ask me. Good luck and I cannot wait to read your fabulous posts!