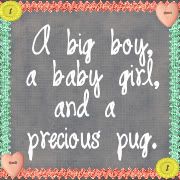 She's a momma.

A crafty momma.

An organized momma.

I consider her a friend--even though we haven't met in real life.

Yet.

And she's fighting cancer.

I'm a big believer in the power of prayer.

God.

Us.

If you have a second, could you go to her blog?

Give her words of encouragement.

And say a prayer for her.

Please?

I know you're gonna love her.

She's sweet.

Funny.

Sarcastic.

And caring.

Read about her battle.

Read about her life and her kiddos.

And say a little prayer.

Because there's no such thing as too many prayers.