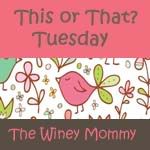 So. Here we are. The very first week of 'This or That? Tuesday'!
I have to admit that I have butterflies in my stomach--like a nervouswillanyoneevenplay type of butterflies. I've had fun coming up with questions--at first I was thinking to myself
what have I started?! What if I can't come up with ANY questions?!?!
Then I laughed and reminded myself that I'm always full of questions. And this? Will be fun!
To play along simply copy and paste the scenario below and write out a post with your choice of
'This'
or
'That'
answer. Copy the button code into your post and then come back and link up on the linky! After you link up go and visit as many of the other link ups that you want--who knows, maybe you'll find a fabulous new blog to follow!
Here is this week's scenario:
You show up at a party of an acquaintance.
It's an evening party and you don't know very many people there. For whatever reason you decide to show up alone--and pray that your friends will indeed make it.
Would you rather show up under dressed or over dressed?
My answer: I would MUCH rather show up under dressed. Seriously. For one I hate getting dressed up...and I always notice the people who just seem over dressed. Under dressed to me would be a cute pair of jeans, a casual top and a cute pair of shoes--preferably ballet shoes or my beloved flip flops. At least if I stick out I may as well be comfortable!